ECM standardized chemical pump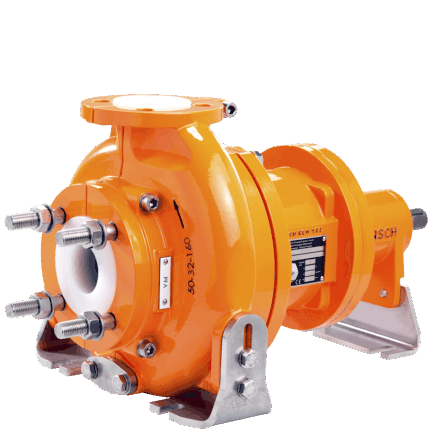 The economical solution for standard applications
ECM standardized chemical pump
Uncompromising quality, consistently reduced to the basics – The MUNSCH ECM standardized chemical pump offers hermetic containment at an unbeatable price. Featuring exceptional efficiencies coupled with excellent suction behaviour, it is ideally suited for standard applications in the chemical industry.
Chemical industry
Type of construction
ECM standardized pump – horizontal centrifugal pump with volute casing; designed to EN 22858/ISO 2858/ISO 5199 dimensional standards and requirements; complemented by size 40-25-125 and 40-25-160 pumps
Performance data
| | |
| --- | --- |
| CAPACITIES [Q] TO: | 70 m3/h |
| HEADS [H] TO: | 70 m |
| OPERATING TEMPERATURE: | -20 to 130 °C |
| OPERATING PRESSURES [P] TO: | 16 bar |
| DISCHARGE NOZZLE FROM: | DN 25 to DN 65 |
| MOTOR RATINGS TO: | 7,5 kW |
Features
MAIN MATERIALS
PFA
PP

IMPELLER
Closed

SHAFT SEAL
Sealless design through magnetic coupling
PLAIN BEARING
SSiC
EXPLOSION PROTECTION (ATEX)
Meets the requirements of EU DIRECTIVE 2014/34/EU/EUU

What makes the ECM standardized pump so special?
High wear and diffusion reserves through thick-walled plastic casing
Perfect hydraulics and the latest manufacturing methods for energy efficiency and minimized wear
Suitable for handling solids-carrying and hazardous fluids, for high-temperature applications and also for unproblematic pumping tasks
Reduced evaporation or plugging risk through intelligent fluid routing inside the pump
Many safety options available for easy and cost-effective retrofit
Ease of maintenance and simplified parts inventory management through standardized components, high availability and ease of field assembly without the need for any special skills
High-quality construction materials
MUNSCH ECM chemical pumps are available in PP and the universally resistant plastic PFA.
| | | |
| --- | --- | --- |
| PFA | -20 …190°C | Universally applicable fluoropolymer; suitable for pumping organic and inorganic fluids. |
Spacer can for hermetic containment
The ECM standardized chemical pump uses a vacuum-resistant, metal-free spacer can to isolate the liquid chamber from the atmosphere. This unique MUNSCH design offers unbeatable advantages in sensitive applications:
• No eddy currents and hence no heat transfer to the fluid pumped
• No energy losses and hence guaranteed high efficiency
• The spacer can is protected from mechanical contact with the outer magnet assembly.
Wear-protected plain bearings
MUNSCH's material of choice for the plain bearings is silicon carbide. This advanced ceramic material features unsurpassed corrosion and wear resistance. The plain bearing tolerates temporary lubricant shortage even in its standard design.
Maximum flexibility
Two pump series, one hydraulic design: the ten pump sizes of our ECM series are identical in hydraulic design with the mechanical seal pumps of the CM series. Your advantage:
MUNSCH offers you maximum flexibility with regard to the sealing concept. Together with you, we select the optimum solution for your specific pumping task.
Munsch Ansprechpartner
Get in touch with us
| | |
| --- | --- |
| Phone: | +49 (0) 2623-8 98-0 |
| Fax: | + 49 (0) 2623-8-98-95 |
Mail: info@munsch.de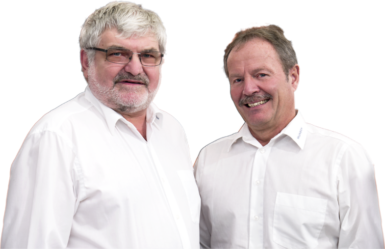 Other products
MUNSCH pumps offer solutions for demanding pumping tasks – also outside the common applications.