NPC Mammut centrifugal chemical pump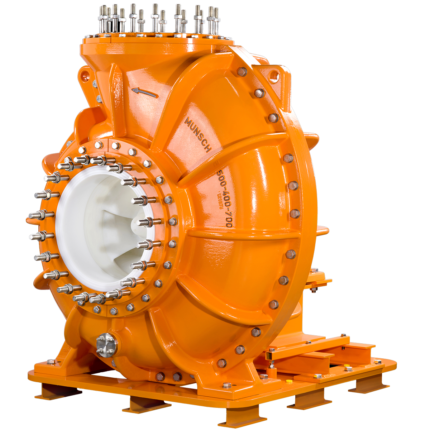 The giant for corrosive and abrasive service environments
NPC Mammut centrifugal chemical pump
For pumping tasks beyond the norm: the NPC Mammut centrifugal pump is the problem solver for extreme tasks. Here, MUNSCH has combined an extremely robust design and large wall thicknesses with excellent energy efficiency and optimum suction behaviour to redefine performance.
The NPC Mammut can handle flow rates of greater than 1000 m3/h even in abrasive and corrosive service conditions. The higher the pump head, the better is the performance of this centrifugal pump.
Mineral processing
General industry
Type of construction
Horizontal centrifugal pump with volute casing and single-stage, single-entry impeller.
Meets the technical requirements for Class II centrifugal pumps as per EN ISO 5199.
Performance data
| | |
| --- | --- |
| CAPACITIES [Q] TO: | 5000 m3/h |
| DIFFERENTIAL HEADS [H] TO: | 100 m |
| OPERATING TEMPERATURE: | 0 bis 100 °C |
| OPERATING PRESSURES [P] TO: | 16 bar (extended service range on request) |
| DISCHARGE NOZZLE FROM: | DN 250 to DN 400 |
| MOTOR RATINGS TO: | 1 MW |
Features
MAIN MATERIALS
PE-UHMW
PP
PVDF
IMPELLER
Closed

SHAFT SEAL
Metal-free mechanical seal with SSiC rotating and stationary seal rings
Available as single or double mechanical seal
Diverse flushing options
EXPLOSION PROTECTION (ATEX)
Meets the requirements of Directive 2014/34/EU

What makes the NPC Mammut so special?
High efficiencies and excellent suction behaviour
High wear allowance through high-quality, thick-walled plastics
Energy-efficient and minimized wear through perfect hydraulics and the latest manufacturing methods
Long-lived and maintenance-friendly
Extremely robust, easy-to-service mechanical seal
High-quality materials
Volute casing, impeller and casing cover of the NPC Mammut chemical centrifugal pump are available in the high-performance plastics HPP, PVDF and, on request, PE-UHMW.
Casing armour: EN-JS 1025
Bearing bracket: EN-JS 1030
Rotating and stationary seal rings: SSiC
Secondary seals: FPM / EPDM / FFPM
| | | |
| --- | --- | --- |
| PVDF | -20 …120 °C | Versatile, partially fluorinated plastic; depending on the application, an economical alternative to PFA. |
| PP | 0 … 90 °C | Good resistance to many inorganic acids; offers excellent wear properties. |
| UHMW-PE | 0 … 80 °C | Highly cross-linked resin offering excellent chemical resistance in addition to outstanding wear properties. Ideal for fluids with high levels of solids. |
Tailor-made mechanical seal
Each MUNSCH shaft seal is matched to the specific application. Being the linchpin in the pump system, the mechanical seal must be right for you – and for your pumping task.
As MUNSCH pumps operate in demanding service environments, the seal as well must satisfy exacting demands. To ensure the highest standards of quality, we have developed a seal offering maximum reliability in tough service conditions while at the same time being individually configurable: the MUNSCH REA-F (S/V).
Its flexibility and adaptability notwithstanding, this metal-free seal comes with a high level of standardization: one seal size fits all the pumps of the NPC Mammut series. In this way, MUNSCH helps you simplify spare parts inventory management and creates confidence on the part of your maintenance staff. Subsequent conversion from a single to a double-acting mechanical seal or vice versa is feasible at any time with a minimum of effort. Flushing connections provided allow various flushing arrangements to be retrofitted without the need for any major modifications in the case of changed service conditions.

Interested in learning more about MUNSCH mechanical seals? Then go to Details for further information.
Munsch Ansprechpartner
Get in touch with us
| | |
| --- | --- |
| Phone: | +49 (0) 2623-8 98-0 |
| Fax: | + 49 (0) 2623-8-98-95 |
Mail: info@munsch.de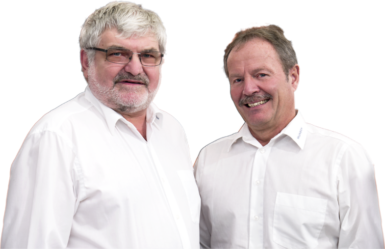 Other products
MUNSCH pumps offer solutions for demanding pumping tasks – also outside the common applications.