CS standardized chemical pump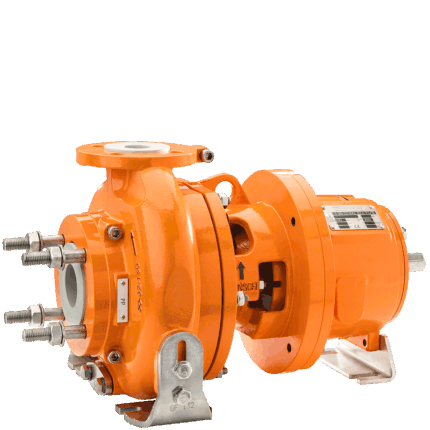 The specialist for highly corrosive service in the chemical industry
CS standardized chemical pump
Pumps in chemical industry applications must satisfy ever more exacting requirements not only in terms of operating pressure and temperature, but also safety and energy efficiency. MUNSCH's answer to this challenging application is the CS standardized chemical pump. The CS-series is setting new standards when it comes to performance and service range.
Chemical industry
Type of construction
CS standardized pump – horizontal centrifugal pump with mechanical seal; designed to EN 22858/ISO 2858/ISO 5199 dimensional standards and requirements; complemented by size 40-25-125 and 40-25-160 pumps

Performance data
| | |
| --- | --- |
| CAPACITIES [Q] TO: | 200 m3/h |
| HEADS [H] TO: | 90 m |
| OPERATING TEMPERATURE: | -20 bis 180 °C |
| OPERATING PRESSURES [P] TO: | 16 bar |
| DISCHARGE NOZZLE FROM: | DN 25 to DN 65 |
| MOTOR RATINGS TO: | 30 kW |
Features
MAIN MATERIALS
PFA
PP
PVDF
IMPELLER
Closed
Semi-closed
Vortex impeller (depending on pump size)
SHAFT SEAL
Metal-free mechanical seal with SSiC rotating and stationary seal rings
Available as single or double mechanical seal
Double mechanical seal optimized for operation with thermosyphon buffer system
Various flushing options
EXPLOSION PROTECTION (ATEX)
Meets the requirements of Directive 2014/34/EU

What makes the CS standardized chemical pump so special?
High wear and diffusion reserves through thick-walled plastic casing
Latest hydraulic design and manufacturing methods for energy efficiency and minimized wear
Suitable for solids-carrying and hazardous fluids including high-temperature applications
Metal-free mechanical seal with diverse flushing options – perfectly matched to the process
Ease of maintenance and reduced spare parts inventory through standardized components, high availability and ease of field assembly without the need for any special skills
High-quality construction materials
MUNSCH CS chemical pumps are available in the following main materials: PP, PVDF and PTFE/ PFA for virtually universal fluid resistance
| | | |
| --- | --- | --- |
| PFA | -20 …180°C | Universally applicable fluoropolymer; suitable for organic and inorganic fluids |
| PVDF | -20 …120 °C | Versatile, partially fluorinated plastic; depending on the application, an economical alternative to PFA. |
| PP | 0 … 90 °C | Good resistance to many inorganic acids; offers excellent wear properties. |
Tailor-made mechanical seal
Each MUNSCH shaft seal is matched to the specific application. Being the linchpin in the pump system, the mechanical seal must be right for you – and for your pumping task.
As MUNSCH pumps operate in demanding service environments, the seal as well must satisfy exacting demands. To ensure the highest standards of quality, we have developed a seal offering maximum reliability in tough service conditions while at the same time being individually configurable: the MUNSCH REA-F (S/V).

Its flexibility and adaptability notwithstanding, this metal-free seal comes with a high level of standardization: one seal size fits all the pumps of the CS series. In this way, MUNSCH helps you simplify spare parts inventory management and creates confidence on the part of your maintenance staff.
Subsequent conversion from a single to a double-acting mechanical seal or vice versa is feasible at any time with a minimum of effort. Flushing connections provided allow various flushing arrangements to be retrofitted without the need for any major modifications in the case of changed service conditions.
Interested in learning more about MUNSCH mechanical seals? Then go to Details for further information.
Maximum flexibility
Two pump series, one hydraulic design: the ten pump sizes of our CS series are identical in hydraulic design with the mechanical seal pumps of the CM series. Your advantage:
MUNSCH offers you maximum flexibility with regard to the sealing concept. Together with you, we select the optimum solution for your specific pumping task.
Munsch Ansprechpartner
Get in touch with us
| | |
| --- | --- |
| Phone: | +49 (0) 2623-8 98-0 |
| Fax: | + 49 (0) 2623-8-98-95 |
Mail: info@munsch.de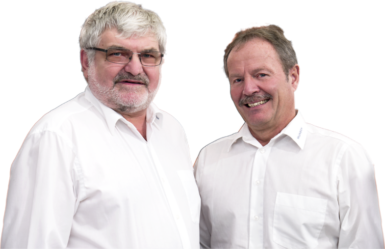 Other products
MUNSCH pumps offer solutions for demanding pumping tasks – also outside the common applications.